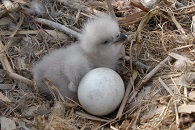 Livestream eaglet cuteness 24/7 via ETSU EagleCam.
Watch eagle couples Franklin and Frances, and Jolene and Boone, raise their eaglets in nests near Bluff City, Tennessee and Johnson City, Tennessee.
TVA is a sponsor of these two live eagle cameras operated by East Tennessee State University's Department of Biological Sciences. From feedings and fending off intruders, to fighting the elements, the live footage – as well as recordings – help tell the story of these eagle families.
"Our EagleCam Project continues to be a collaboration of the university, community volunteers and generous individual and corporate donors," said Dr. Fred Alsop, resident ornithologist at ETSU. "For the last seven years, these eagle cams have provided an important educational link between the public and the conservation of these native raptors."
TVA reservoirs provide valuable habitat for bald eagles, whose principal diet is fish. Eagles tend to mate for life and return to the same nest over and over. Several pairs of nesting eagles are known to make their homes along our waterways.
Watch the live camera feeds here or on the ETSU Eagle Cams Facebook page.