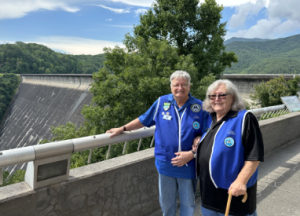 Zig zagging around 318 curves over 11 miles of the Tail of the Dragon is considered "the destination" in America for sports car and motorcycle enthusiasts, but at the end of those curves is another destination of note:  Fontana Dam.
Considered one of TVA's most beautiful dams, it stands at 480 feet making it the tallest dam in the Eastern United States, and it hosts on average 50,000 visitors a year.
This dam is a site to see, and the Visitors Center volunteers who work at this location are a bonus.
Volunteers at the heart of the Visitors Center
TVA retiree Frank Laszlo and his wife Martha are Bicentennial Volunteers, Inc. (BVI) volunteers who interact with visitors from all around the world to teach them about Fontana Dam and all that it does for the area.  The Laszlos have put in more than 3,300 volunteer hours since joining BVI in 2012, and recently celebrated their 53rd wedding anniversary while volunteering.
Talking about the construction of the dam is Frank Laszlo's favorite part of the center's exhibit. Built in 1942, Fontana not only provided hydroelectric power and flood control for the region, but it also created Fontana Lake, which is a popular site for boating, fishing and other outdoor activities.
Because Fontana Dam is part of the Appalachian Trail, many of the questions the Laszlos get have to do with hiking, camping and outdoor recreation.
"Martha is great about that–she does research and knows where the markets are and where the trails are much better than I do," Frank said. "At TVA, I managed the Cherokee, Douglas, Norris dams plus the Volunteer Control center, and before that I operated Dams. I think we make a good pair."
Laszlo and Martha serve TVA and their communities by sharing knowledge, stories, and supplies. From students to hikers, the Laszlos are prepared to help. With four drawers of supplies from shaving cream to first aid supplies and an outdoor shower, the volunteers are ambassadors for the public, prepared and waiting to help visitors and hikers alike.
"Volunteering here is a public service in a way. When people on the trail are in trouble, we have the ability, to get out and call for help, where many in this area cannot" Martha said.
They go out of their way to find a connection with everyone who comes through the door, making the visitors experience unique and memorable.
"I like to share TVA's story with the public. It is important that I contribute by doing something for myself and for others," Frank said.
Unique visitors and connections
Noticing a visitor's German accent, Frank struck up a conversation with Gabriela Palouda-Jones and her husband David, who realized they had served on the same military base in Hahn, Germany. Talking about their histories and their interest in the dam made this visit a memorable one for the couple.
"I had no idea that TVA served seven states. To think we came to see the water flowing, but instead we had a great walk down memory lane," Gabriela said.
Netaji Khot and his family who are from India shared their fascination with dams, telling a story about two dams in India that helped an area move from drought conditions to having regular water year-round. That interest led them to Fontana.
"Fontana Dam is massive and fascinating to see. It is jaw dropping and scary when you see down there. It makes you feel very tiny," said Netaji, who is exploring the United States with wife Smita and their son Adi.
"Experiencing different cultures, different territories and views teaches you a lot more than what you learn in the books. I have gotten to travel and experience the United States, and I wanted my wife and son to have these experiences as well," Netaji said.