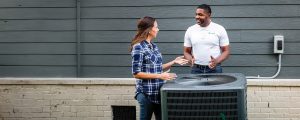 TVA program pays homeowners to improve energy efficiency.
As the cool weather approaches, the Tennessee Valley Authority is rolling out rebates for homeowners who make energy efficiency improvements. The rebates cover everything from window replacements and insulation to water heaters and HVAC systems. To qualify for rebates, the upgrades must be made by a TVA-approved contractor.
And homeowners can stack multiple rebates, Frank Rapley, senior manager with TVA EnergyRight's residential team, said.
"You could go in and do a whole energy efficiency blitz in your home and get thousands of dollars of rebates," Rapley said.
Money-Back Menu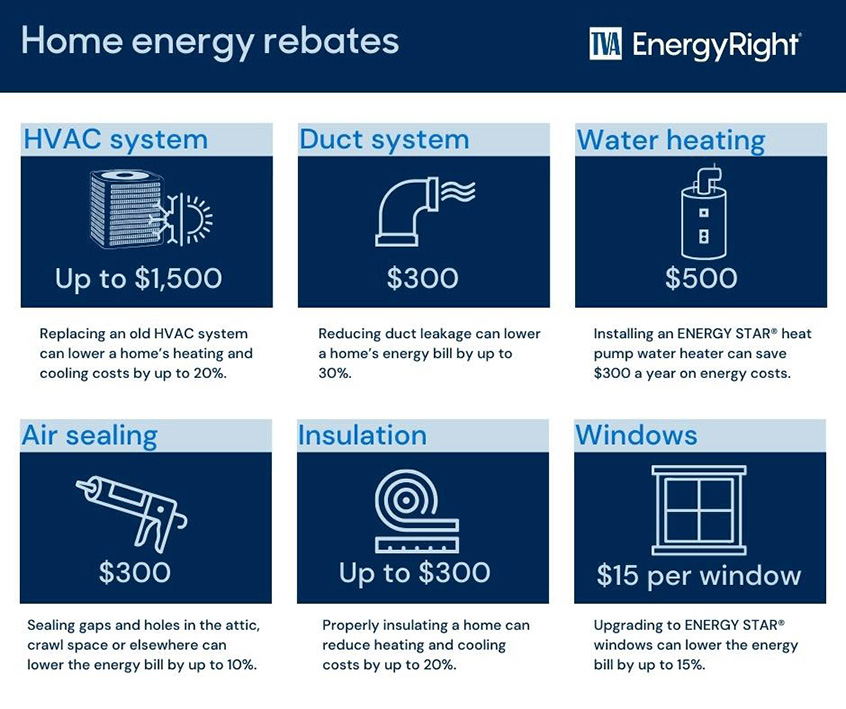 The biggest-ticket items are certain high-efficiency heat pumps, offering a rebate of up to $1,500. High-efficiency central air units qualify for a $700 rebate.
Just tuning up your existing heat pump or central air system is good for a $50 rebate.
Insulation in your attic? $300.
TVA EnergyRight, which operates the program, provides a full list of rebates and approved contractors on the program website.
One of those approved contractors is MCH Nashville, based in Old Hickory, Tennessee.
"Anybody we're dealing with right now, I'm immediately bringing up this program," James Lasater, director of home energy services at MCH Nashville, said. "Anything they do on this is going to help with their bills."
Certain upgrades also qualify for a tax credit, Lasater said.
Financing is also offered through TVA and local power companies in many areas, and it can be layered with most rebates to reduce a homeowner's upfront costs.
Investing in Efficiency
TVA is proud to bring back residential energy efficiency rebates for the first time in five years, Jeff Lyash, TVA President and CEO, said.
"Our goal is to help people use the energy that powers their daily lives as efficiently as possible," he said. "Reducing energy usage is the most effective way to lower your monthly bill. This program also helps reduce the amount of energy TVA must generate, which is especially valuable during periods of peak demand."
The residential rebates are part of TVA's commitment to invest $1.5 billion over five years in energy efficiency and related programs. In addition to residential rebates, TVA EnergyRight is also expanding the energy incentives available to businesses in the region.
Electrification and energy have become part of day-to-day conversations for many, Michele Tsetsakis, sales manager for Knoxville-based Rocky Top Air, said.
"I've been talking more than I ever have," Tsetsakis said. "My sit-downs are taking longer. People are asking a lot of questions."
And these topics are important for everyone.
"We all have to do what we can to reduce our footprint," Tsetsakis said.
Simple Savings
TVA has more than 375 approved contractors in its network, with new contractors still being added. Contractors who would like to learn more can visit the TVA EnergyRight Quality Contractor Network site.
Homeowners interested in rebates just need to contact an approved contractor.
"We've been doing work all summer to get the contractors in our network up to speed on what the new rebates are," Rapley said.
His team is also keeping contractors knowledgeable about the standards for installation.
A contractor who performs the work registers the homeowner's upgrade with TVA. The homeowner then receives an email to confirm the project's completion.
TVA mails a check directly to the homeowner.
"The rebate is sent to their house," Rapley said. "It's pretty much that simple."
A Bigger Goal
Even basic weatherization improvements can make a noticeable difference, Ric Carroll, sales manager of Bailey's Heat and Air, said. The Fort Oglethorpe, Georgia-based contractor serves greater Chattanooga.
"Attic insulation is one of your best options because it works for you every day," Carroll said. "It saves you money 24/7, 365 days a year."
Beyond personal savings, homeowners can feel good about pitching in on a bigger goal.
"The whole premise in all this is trying to eliminate creating more power through power plants," Carroll said.
Rapley echoes that sentiment.
"Little by little, it all adds up," Rapley said. "And that's kind of the name of the game with energy efficiency, right?"