When TVA was established in 1933, it was hoped that the dams it planned to build would bring prosperity to the region and change the lives of the people – and it did just that.
Norris Dam, TVA's first, created the surrounding lake and has since become a very popular destination for retirees – TVA retirees included.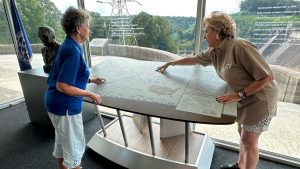 Donna Terzak, former senior manager, External Reporting and Janet Herrin, former Chief Administrative Officer and senior vice president of River Operations are relatively new Bicentennial Volunteers, Inc. Volunteers, who started shortly before the Norris Dam Visitor's Center closed due to COVID-19 in 2020.
First of Many
Norris is not just the first dam built by TVA, but TVA created a planned community that became a model for others throughout the nation.
"TVA built the city of Norris for the dam construction workers. The size of a worker's family determined the type of house they got," Terzak said.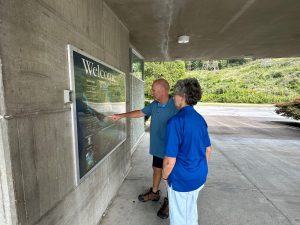 Additionally, Herrin's first job out of college turned into a lifelong career.
"I was recruited by TVA, and I am very thankful for my career," she said. "I was given opportunities at TVA that I probably wouldn't have gotten otherwise. I believe in public power, so this gives me a chance to talk about what TVA does, and why they do it."
TVA continued to illustrate its commitment to innovation in the 90s.
"TVA was a pioneer in engineering technologies related to water management. One of the things TVA implemented was its Reservoir Releases Improvement program to improve the fishery below 16 of its dams – one of which was Norris," Herrin said.
A weir was built downstream of Norris Dam to keep water in the tailrace regardless of dam releases.  This year, the weir/island has undergone significant erosion repair, and the area is scheduled to reopen in October.
TVA in the Community
TVA led the way in innovation, and it is also working to better the service area.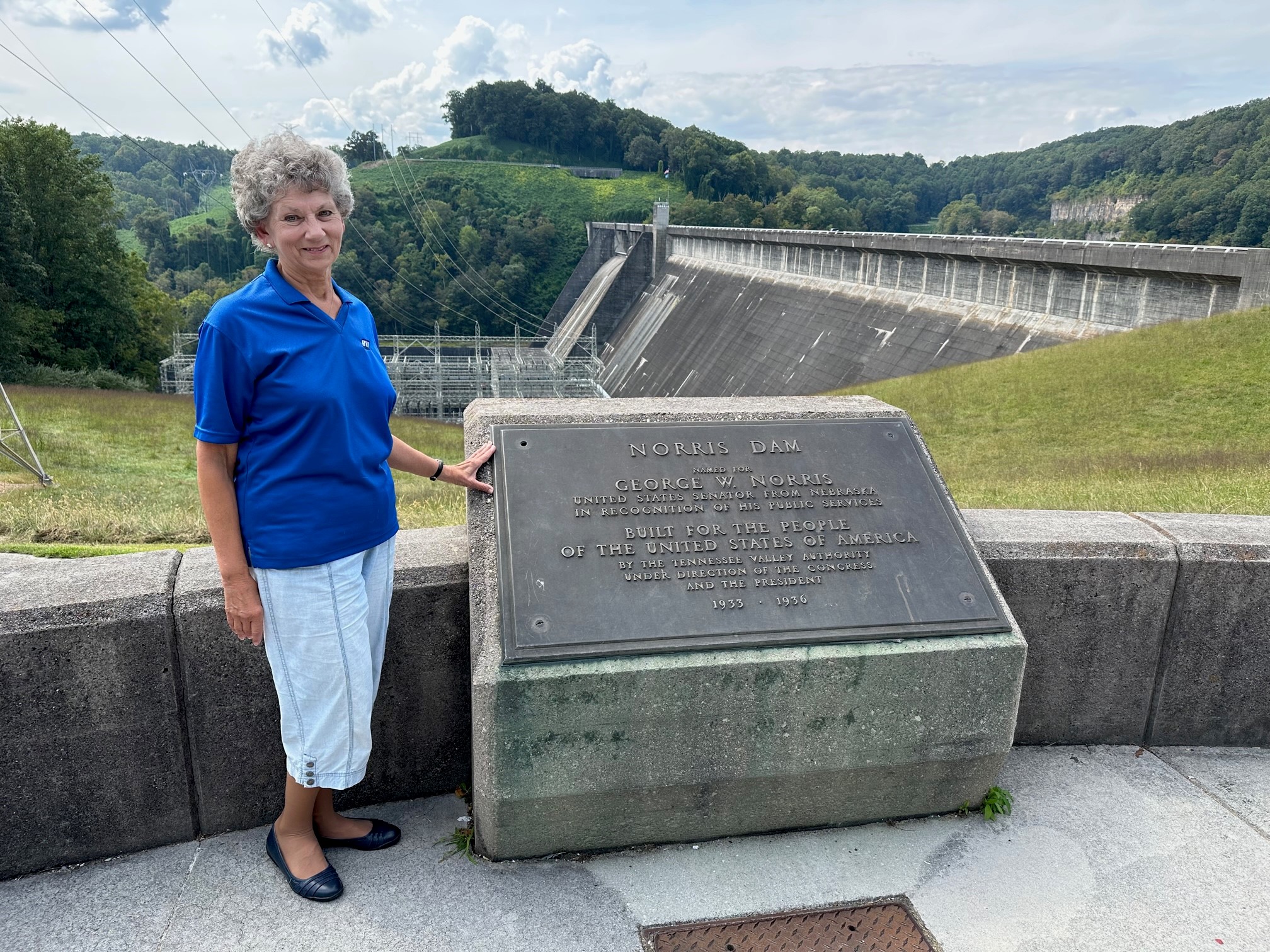 "Growing up in Pennsylvania I had heard about TVA, and when I came down here, I saw how much it has done for the Valley region and what it would have been like if they hadn't done anything," Terzak said.
Terzak commented on the trade-offs and what some people had to give up for TVA to improve the region.
"You ask why I volunteer. I love hearing the stories of visitors who share family history about the region. There was a man who came in a couple weeks ago who said TVA relocated his family's cemetery.  He described how TVA came in and did schematics of where the plots were, where the gravestones were, and how they put it back in another location. He was so thankful for how reverently TVA handled the relocation," Terzak said.
TVA also takes community use of outdoor recreation into consideration.
"The two turbines at Norris are also operated to support fishing and boating below the dam. On most mornings, no generation is scheduled at Norris to provide wading fishermen a chance to safely fish below the dam and weir," Herin said.  "Depending on generation demands, one unit will be brought online during the day, but not until the alarm is sounded to alert folks in the tailwater that conditions are about to change."
Natural Resources
Terzak touched on other things TVA does, not just for the community but for the environment as well.
"Many people don't know about the reforestation TVA has done. Planting white oaks, maples and other species of trees is just another way that TVA has given back to the region," Terzak said.
In addition to caring for the physical environment, visitors appreciate the natural beauty of the area as well.
"We are camping at Big Ridge State Park (Norris Dam State Park's sister park), and we haven't been here before, so we thought we would take in the dam and the beautiful view and overlook," visitor Clint Ferguson said. "We have done most of the hikes around Big Ridge, so I'm excited for the trail map around the dam."