Just 20 minutes outside of Chattanooga is Raccoon Mountain Pumped Storage Plant. One of the most beautiful locations along the Tennessee River also happens to be one of TVA's greatest engineering marvels. Upon arrival, TVA retirees and Bicentennial Volunteers, Inc. (BVI) volunteers Tony Giggy and Emmett Robinson, who together, have volunteered over 8,000 hours with BVI, give a warm welcome to visitors.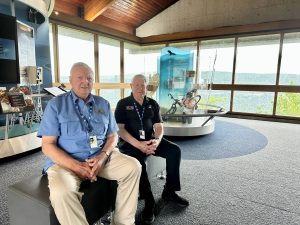 Natural Beauty and Wildlife 
"It is unique. People from all over the world come here to see this miracle. To dig down in the mountain as deep as the Empire State Building is tall, is something to see," Robinson said.
The only Visitors Center open year-round, Raccoon Mountain Pumped Storage Plant is TVA's largest hydro facility, and it sits in the middle of a state-designated wildlife observation area, making it a popular destination. Since it reopened in June 2023 for the first time since it shut down due to COVID-19, Raccoon Mountain has welcomed over 3,000 visitors so far.
"There is a lot up here that people can enjoy and see. We have all sorts of wildlife: Deer, wild turkeys, rattlesnakes; a good portion of our visitors are excited to see how much the site has to offer," Robinson said. "We have a pair of nesting Bald Eagles. If you are lucky, you'll see them flying across the river in the wintertime."
Giggy goes outside to meet a visitor standing on the overlook.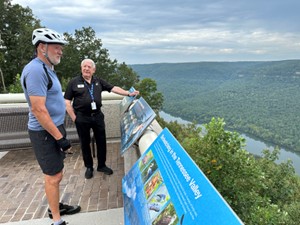 "It is a beautiful view. It is a beautiful place. I haven't been in a couple of years, so I took a bike ride up the mountain to take in the beautiful overlook. I'm also not the average TVA customer. I worked in solar for many years, and power doesn't come from a light switch," said East Brainerd resident and visitor John Moynihan. "Solar is great, but I don't think you are going to meet the base load with solar."
Plant Construction
Back inside, Robinson talks with two visitors about the construction of Raccoon Mountain.
A lot of pump storage facilities will have big tubes running up and down the mountainside and switch yards running along the base of the mountain taking away from the surrounding scenery, but it was important to TVA to maintain the natural beauty that overlooks Prentice Cooper State Forest, home to a world-renowned rock climbing paradise.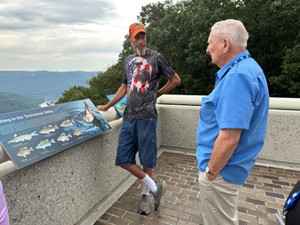 "We try to tell people what TVA does for the economy and ecology of the region. We try to show them the beautiful view because the reason Raccoon Mountain was built in the mountain was so it wouldn't take away from the scenic view of the Tennessee River Gorge," Giggy said.
Giggy and Robinson agree that their favorite thing to talk to visitors about is how the plant operates at the flip of a switch.
"We are a peaking station. We are like a battery, if you need power – turn us on; if you don't – shut us down. We generally pump at nighttime when there is a surplus of electricity on the system. We act as a balancer, we take some of the excess load off and store it," Giggy said.
"We have to have something in case a unit goes down, or there is an unusual demand. We can get instant generation from the waterfall. Raccoon Mountain is one of the ways TVA meets that need," Robinson said. "I like to share this with visitors because TVA was good to me. They were good to my family. I really enjoyed my work with TVA, so I wanted to give some of my time back to them. I try to promote TVA whenever I can, it is good for the region," Robinson said.