$10,000 donation to five Knoxville area nonprofits
"This wonderful gift is really going to enhance a lot of the work we do here," said Karen Pershing executive director of Metro Drug Coalition during one of five check presentations made on Monday, Oct. 30. The $10,000 donation and four others totaling $50,000 were made possible through a partnership between BVI, TVA Retirees Association Knoxville chapter and TVA.
Through a thorough vetting process, the Knoxville chapter of TVA Retirees Association and TVA's Government & Community Relations group reviewed applications from over 20 organizations in the Knoxville chapter area and chose five: Mobile Meals; Volunteer Ministry Center; Metro Drug Coalition; A Place to Stay; and The Love Kitchen.
"We checked organization overhead and what was going to those in need to make sure the organizations we chose were truly serving the people of the region. Partnering allowed us to make a bigger impact with funds from both BVI and TVA," said Sammy Sweetland, TVARA Knoxville chapter president.
"This donation will provide approximately 2,800 meals to homebound seniors. This will cover the cost of the meal and delivery," said Sara Keel Community Engagement manager with Mobile Meals.
While Mobile Meals provided over 275,000 meals to seniors this last year, they also provide friendly interactions and daily safety checks that help clients continue living independently.
"This organization has a very selfless mission. The seniors are a community in need, especially those that aren't surrounded by loved ones, and we appreciate all that they do," said Kathy Black, BVI president and presentation attendee.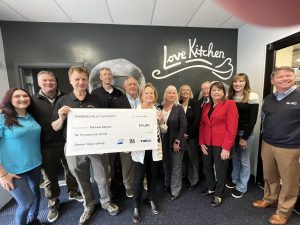 The next organization, The Love Kitchen, shared about how they are impacting hunger in the surrounding community.
They serve, on average, 3,200 meals a week to those who are homebound. Additionally, they serve lunch once a week to those in need in the community.
"We will serve lunch to anyone that shows up. Last week we served 378 meals during lunch in 40 minutes," said Martin Riggins, executive director of The Love Kitchen.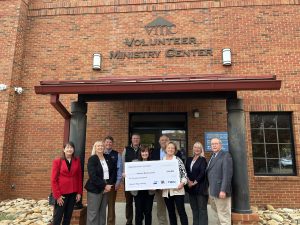 Volunteer Ministry Center was the next organization to receive a donation. Providing services to prevent and end homelessness in the Knoxville area, the center has five different outreach programs and is adding another before the end of the year.
"We provide everything from assistance with utilities and groceries to dental services and therapy," said Mary Beth Ramey, chief development officer. "Your generous donation will go to our general operating fund, so we can use it to fund the various programs that are most in need."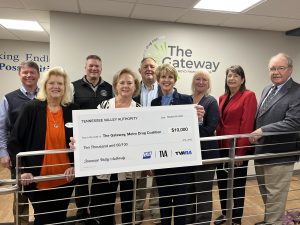 Right across the street, the Metro Drug Coalition was the group's next check presentation. The Gateway is a new addition to MDC; it is a recovery community center that provides additional support to those transitioning from addiction treatment back into the community or who are seeking recovery, but need someone to walk beside the as they navigate treatment.
"Art and music, regardless of talent or experience, have been shown to provide healing to help people process their histories and traumas that have contributed to their addiction, so we are excited about your donation because it is designated to help fund those new programs," Pershing said.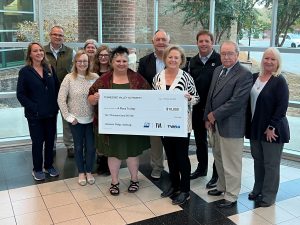 A Place to Stay, the entry point to services for neighbors in Blount County who are experiencing homelessness, was the final check presentation of the day.
"I worked for TVA for over 28 years, and because of that I have 28 years of family. Staying involved with TVA Retirees Association is a good way to stay in touch with that family, and when you get to do that and participate in community projects that benefit others and focus on food and shelter insecurities, it is a bonus," said Reny McClain Lee, TVARA Knoxville chapter project manager.
"We wanted to get involved because it was a great way to focus on one of TVA's giving pillars of health, hunger and housing while staying engaged with our local chapter of TVARA. It was a natural way to join and support our community and our retirees," said Bryan Johnson, community relations specialist.