CAST for Kids and TVA Host Fishing Event for People with Special Needs
Jeff Barnes can picture it still, clear as day. Eating lunch on the river. The clouds hanging overhead. Lizards running across the rocks. "Then it rained, and we had to go in," Barnes said. "I never forgot that day. It turned me into a fisherman. I feel blessed that I had a grandad to take me out there."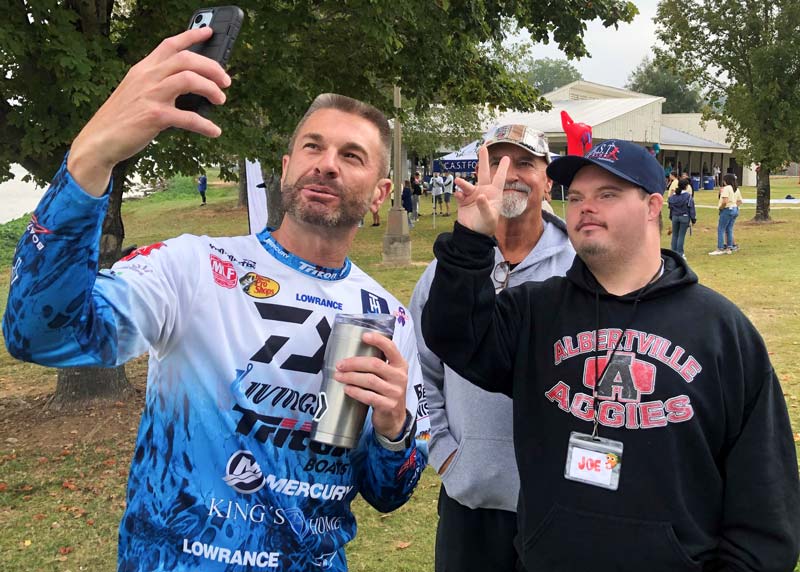 Pro fisherman Randy Howell poses for a photo with Joe Long and Samual Long at the CAST for Kids event at Guntersville Reservoir.
Decades later, as eastern region director of The CAST for Kids Foundation, Barnes is still every bit the fisherman – and now he's helping boatloads of other children and young adults capture those same cherished memories with their families.
Among those young adults is Joe Long, who recently attended the CAST for Kids outing at Guntersville Reservoir in northeast Alabama.
Joe attended with his dad, Samual Long, and mom, Paula Long, who said Joe has been attending the event at Guntersville Reservoir for years.
"He never comes across anybody he doesn't like," Paula said. "He loves everybody – and he loves CAST for Kids."
The Longs joined pro fisherman Randy Howell on his bass boat, where Joe caught seven fish.
The Tennessee Valley Authority, which maintains Guntersville Reservoir for public use, partnered with CAST for Kids Foundation to host the annual event, which this year drew 34 participants from a handful of surrounding states. Sixty-six volunteers helped ensure the event's success.
CAST for Kids organizes nearly 100 fishing events nationwide for children who have special needs, enriching their lives with unforgettable experiences at some of the best fishing spots in the country.
And the TVA's seven-state region is chock-full of hot spots for anyone eager to bend a pole.
"TVA has some of the greatest reservoirs and waterways in the world," Barnes said.
The participants at the Guntersville Reservoir event got the opportunity not just to fish, but fish from boats. Three dozen boat owners registered to take participants and their parents out on the reservoir, leading excited families on a bona fide Guntersville fishing expedition.
"It's very special they do this for them," Paula said. "They love going out on boats. Most of them don't get to do that very often. It's really special to Joe, too. He loves doing this every year."
Access for all
Guntersville Reservoir is recognized as one of the best spots in the nation for bass fishing. And thanks to CAST for Kids, these budding anglers were well-equipped for the adventure. "Every child gets a rod, reel and tacklebox," Barnes said. Each participant also received a T-shirt and hat, as well as an award featuring their picture.
"We want natural resources like Guntersville Reservoir to be accessible to people of all abilities," Dave Brewster, TVA Water Resource Management – West Operations manager, said. "Efforts like CAST for Kids are just one way TVA is working with organizations to make the great outdoors more inclusive."
For many, it's about the big moment. "The thrill of catching a fish," Barnes said. "It's quite awesome to watch."  For Barnes, it's all about helping an incredible group of kids and young adults develop a lifelong love of fishing in the company of friends and family. "It's great to see them come out to the event, get paired with a volunteer who teaches them how to bait a hook, reel a fish in and show them a good time," he said. "A lot of kids, they really get something out of it."
Reeling on the reservoir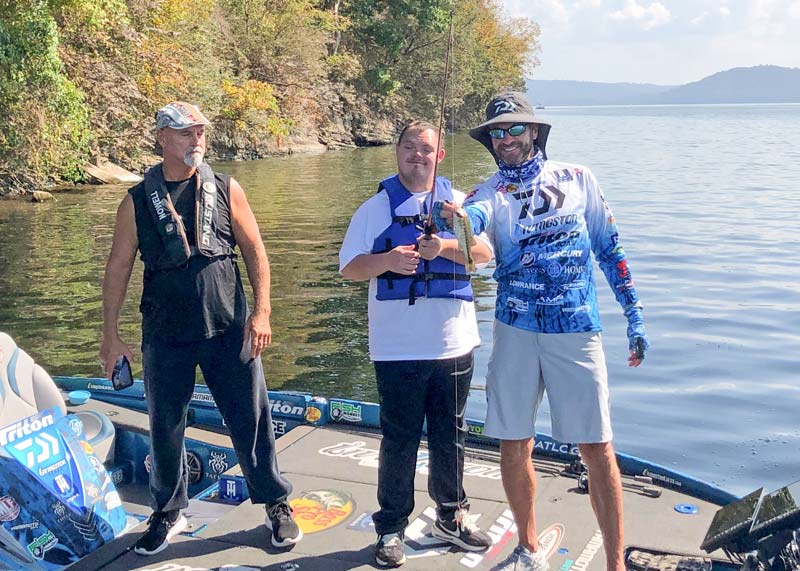 Randy Howell holds up a fish that Joe Long caught at Guntersville Reservoir.