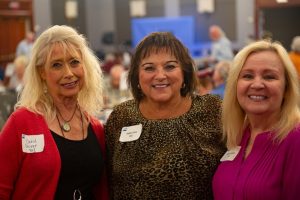 Bicentennial Volunteers, Inc President Kathy Black welcomed over two hundred volunteers, representing over 85,000 hours donated this year, to the annual awards reception at The Chattanoogan hotel ballroom on Sept. 12.
"We host an annual appreciation reception to recognize the contributions of our dedicated BVI volunteers who work at the TVA-manned visitor centers along with devoting their time to several other volunteer opportunities," said Marka Smith, program manager for Visitor Centers and Volunteer Opportunities. ? "We also recognize the outstanding service performed by individuals working for FEMA (Federal Emergency Management Agency) through NEA (National Emergency Assistance) who assist in Disaster-Relief.? Both BVI volunteers and NEA employees are excellent ambassadors for BVI and TVA."
Once a formal awards banquet, BVI switched to a more casual appreciation reception last year because COVID-19 limited volunteer opportunities.
"All of us felt like the reception atmosphere was well-received. We got many compliments in 2022, so we decided to keep the same format, but we brought back awards," said Smith.
TVA Board Member Bobby Klein was the keynote speaker, thanking all in attendance for their commitment to making the region a better place through their volunteer efforts.
"I spent many years across the table from TVA, and now I am honored to be on the board because of great people like you that helped shape the organization and region," Klein said.
Black acknowledged volunteer milestones awards winners. While all are amazing examples of service, Carol Daniel was recognized for having volunteered over 13,000 hours for BVI, the most in program history.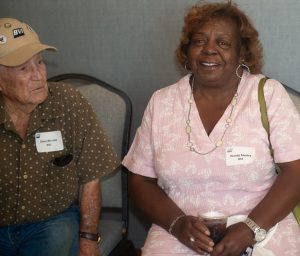 "For 25 years I have been volunteering with BVI.  Meeting people from all over the world and sharing what TVA has accomplished over the years is exciting," Daniel said. "Visitors are so appreciative to have a place to learn about TVA's history."
The biggest honor of the evening, Volunteer of the Year, went to Lile and Cathryn Bickley.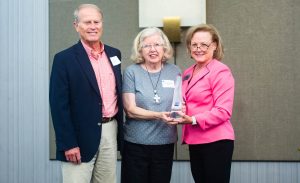 "Over the past 13 years, they have volunteered in BVI's Low Income Gardening program in Muscle Shoals, taught water safety classes in numerous schools throughout northwest Alabama and have worked at Kentucky and Fontana Dam Visitor Centers," Black said.
As Black wrapped up sharing their long list of contributions, someone from the back of the room yelled, "We want to know when they sleep!" The room erupted with laughter and nodded in agreement that Lile and Cathryn were deserving of the award.
"We were very surprised. We don't really care about tooting our own horn a lot. We are among people who volunteer and do just as much as we do, so it is an honor to win," Lile said.
Of their volunteer activities, working at the Fontana Dam visitors center is their favorite. Recently, the Bickley's met Nikki Bettis and her 15 kids who were hiking the Appalachian Trail together.
"Nikki had me show the kids around the center and give them a history lesson about TVA before they started their trip," Lile remembered. "They were some of the most attentive kids I've encountered."
"It is amazing how many people come from different countries. The stories people tell are amazing," Cathryn said. "We volunteer there in April and then again in October, so we get to see people as they start the trail [Appalachian] and when they finish."
Lile enjoys the location and historic qualities of Fontana the most.
"It is off the grid. You have to want to go there to get there. You also get to tell people about the history of TVA and how much they have impacted the economic standing of the average citizen of the region, and I had the privilege of working for them," he said.